From Hawaii with Love
~~Specializing in Quality Ayurveda Blends ~~ Local Organic Food Supplements ~~ Fresh Made Spices ~~ Natural Body Care & More
Mahalo for Supporting Local Organic Businesses
Free Shipping on orders over $125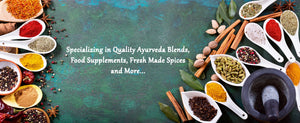 Testimonials
I met Sita on this year's rainy Mother's Day when the Puna conmunity and Sita were (and are) going through so much! But Sita was a sea of calm. Each item I bought from her have been amazing since I have come home to Alaska.  From the Tumeric Paste, Ayurveda Oil Body Lotion, bee pollen, tumeric ginger honey, and rose water spray. Thank you for the wonderful products and hoping all is well for you, Sita.

Billie, AK
Sita! My skin cream... its such a lovely product. Also the black seed oil is working beautifully for my 6 yo daughter with allergies/asthma. The coughing is subsiding - finally. Thank you!

C, PA
Testimonial
I am in love with ALL the products, especially the turmeric paste and the skin creme.  Thank you, Sita for your amazing dedication to producing such healthy gifts. I will be reordering for life!

Constance, NJ
We were on vacation to Hawaii and while there visited the local farmer's market and picked up some of your Ashwagandha. My mom has significant mental health issues and was quite wary of taking the supplement. Finally she agreed to try it and even added your turmeric to her repertoire. It has made a significant difference in her health! The quality is excellent and so is customer service. Thank you for providing such wonderful, natural products!  

Nicole, AL
Gifts & Other Local Products
From Hawaii With Love
Hello, my name is Sita. My husband and I produce, promote and sell Ayurveda spices, herbs, natural blends, body lotions, and superfoods that promote good health.
Our company, From Hawaii with Love, was started when I began going to various farmer's markets in Hawaii with my fresh-made Ayurveda blends developed from recipes and techniques I learned in India and Hawaii. These markets and craft fairs are attended by local residents and visitors from around the world. Soon people began calling or writing me to ask for my pastes, blends and fresh spices. We now have customers all over the USA who purchase online from us here. We also have a growing list of wholesale customers, including Island Naturals (three Big Island stores), Abundant Life, clinics, physical therapists, yoga groups, and natural-foods stores on the Mainland and other Hawaiian islands.
From Hawaii with Love lost our business office to the 2018 Kilauea lava flow and our home is under 20 feet of lava!  Our products have helped many to recover from toxic vog exposure and trauma.  Many of our customers swear by our Ashwagandha Paste because it's amazing for stress and insomnia.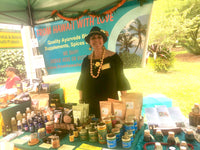 Testimonials (slide to view more)
As an herbalist, I was curious to stumble across Sita and her preparations while on vacation at a farmer's market in Hilo. I have been using small doses of the Ashwagandha paste for several weeks and really appreciate her formulation. It appears to have been created with maximum bioavailability of the herbs in mind, and I have definitely found it to have a calming effect.

Michelle, California
Sita's Turmeric Paste has become my best friend.  For over 20 years I've been battling high blood pressure.  I've started taking Sita's turmeric paste infused with ghee for about a month and a half, 1/2 to 1 tsp twice a day.  This paste has been a blessing.  My BP numbers have dropped down to normal and my Doctor has now removed 1 med because of my good numbers.

Seizzean, Big Island
I visited Hilo Hawaii in October 2017 and purchased Sita's Ashwagagha and Tumeric Paste. After one month of use, my inflammation level has decreased to half. I am beginning to feel much better, thinking more creatively and have recently gone back to selling real estate. I feel so much better and I owe it all to these products.

jebrise240
I wish I could give this product 10 stars! (Sita's Ayurveda Body Oil) Sita must put some magic into this bottle or something because it's done wonders for my skin. The smell isn't great but I don't mind because of the results I'm getting. I just let the oil soak in and follow up with my favorite lotion and the funky neem smell is gone. AMAZING product!!

Elizabeth
Your turmeric paste is more effective than any turmeric product or extract I have tried.

Kalindi, Honolulu
By far the best spices I've ever had.  Mahalo for the love and freshness you have put into them.  The curry powder is my favorite.

Sarah
Aloha Sita,
I met you today at the Maku Market and was so impressed by your products.
I look forward to enjoying their health benefits and seeing you again.
Mahalo again for the sweet Rose Water spray, I Love it!

Toni
Sita is turmeric products, particularly her turmeric paste is a lifesaver for me. Five years ago I canceled my surgical appointment for consideration of a joint replacement of my thumb due to osteoarthritis and severe pain and dysfunction. After two weeks, actually I think it was a little bit less but definitely no more than two weeks, the reduction in pain and the ability to use my thumb again was amazing. Over the years the use of turmeric has kept my arthritis stiffness and joint pain in check. I won't be without it!  Sita has many products of the highest quality and I use many of them from colloidal silver and black seed oil to the best organic spices and teas. I'm very fond of her new skin repair cream and my feet and hands are now soft again. Browse her website and shop for some of the best Ayurvedic products available.

Linda, AK
I've been taking Sita's Turmeric Paste off and on for about 6 years now and absolutely love it. It is delicious and combined with the ghee is the best way for my body to absorb the Turmeric and benefit from it. I also love the Ashwagandha paste and recently have been branching out to try the Black Seed oil which I now totally swear by. Thank you Sita!

Sergei
Traditional Ayurveda Blends, Superfoods, Fresh Made Spices, Natural Body Care and More
Thank You for Visiting Our Site
Traditional Ayurveda Blends, Superfoods, Fresh Made Spices, Natural Body Care and More
Thank You for Visiting Our Site
Sita's Turmeric Paste Testimonials
One lady told us it cured a persistent blood problem she had been having and had been unable to cure with other medicines, both pharmaceutical and natural.
One man, who had originally taken the blend for joint pain, told us it also had helped relieve his chronic depression.
Another man told us his mother had canceled her scheduled knee surgery after taking our turmeric paste blend for just 2 weeks.
Some people told us they had been taking other turmeric products or extracts that had not been as effective as our turmeric paste blend.
Hearing such amazing testimonials inspired us to create this website –so we can offer everyone the opportunity to benefit from this highly beneficial food supplement.
Although the FDA generally will not acknowledge the benefits of most natural remedies, many people are turning to Ayurveda, other safe traditional remedies, and natural food regimes and diets to help treat or prevent varieties of ailments ranging from acne to Alzheimer's.
-Sita
Sita's Turmeric Paste (Coconut Oil Base)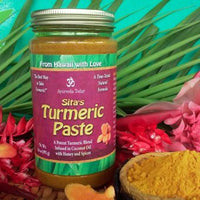 Location
Meet Us In Hawaii
Come & Try Our Products
Saturday                                           Hilo Farmer's Market 8-2
Sunday                                             Muku'u Market 8-2
Our Commitment to Holistic Remedies
Our commitment to Ayurveda and quality herbs and food products is based on our spiritual convictions, practical experiences, and years of living naturally in or near jungles in both India and Hawaii, where many people still rely on herbal medicines and tonics for the treatment and prevention of many ailments and diseases.
We have learned many natural remedies and methods of combining and using various medicinal herbs and spices, and we will gradually add other valuable herbal products to our inventory. We are not Ayurvedic doctors and do not prescribe cures or diagnose diseases. We are promoting a few safe, potent natural blends, general tonics, superfoods, and spices that have been used for eons for the purpose of boosting our immune systems and regulating digestion and other essential bodily functions.
We hope you receive great satisfaction and healing from our natural organic products we make from Hawaii with Love.