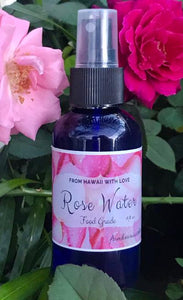 Rose Water
Ingredients:  Food Grade Rose Water
Rose water is created by distilling rose petals with steam. 
  "I'm so grateful to have Sita's products in my life! I love everything she offers so very much. I use her black salt and rosewater spray every day and absolutely love her curry powder mix, too. The tumeric ginger orange honey is delicious. The quality of her products is top notch, you can't go wrong."
-Jennifer, CA
Rose water has been used for thousands of years.  It's been used traditionally in both beauty products and food and drink products. It also comes with plenty of potential health benefits, including the following.
Soothes skin irritation
Soothes sore throats
Reduces skin redness
Helps prevent and treats infections
Contains antioxicants
Heals cuts, scars and burns
Enhances mood
Relieves headaches
Has anti-aging properties
Soothes digestion