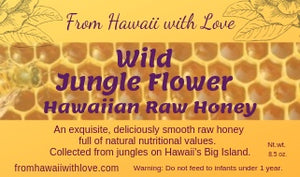 Ingredients:  Freshly-harvested
Hawaiian wild jungle honey.
This is an exquisite, deliciously smooth raw honey collected from the jungles on Hawaii's Big Island and is full of natural nutritional values.
Additional information
Honey is truly a remarkable substance, made even more extraordinary by the process with which it is made. This blend of sugar, trace enzymes, minerals, vitamins, and amino acids is quite unlike any other sweetener on the planet.
Our honey is raw, local and the purest honey we found on Big Island.  This is because the bees stay in the wild jungle, far away from people and commercial agriculture.