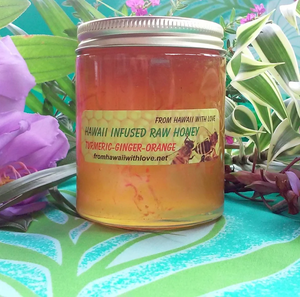 Hawaii Infused Raw Turmeric-Ginger-Orange Honey                                                                                       
We infuse our superb jungle flowers raw Hawaiian honey with fresh organic turmeric, organic ginger, and organic orange.
  "I'm so grateful to have Sita's products in my life! I love everything she offers so very much. I use her black salt and rosewater spray every day and absolutely love her curry powder mix, too. The Tumeric ginger orange honey is delicious. The quality of her products is top-notch, you can't go wrong."
-Jennifer, CA
A great alternative to jam and marmalade. 
From Hawaii with Love Turmeric-Ginger-Orange Raw Infuse Honey is a delicious and beneficial natural sweetener, further enhanced with turmeric, spices, and orange. Use them to sweeten and top a wide variety of foods and desserts.
Add our delicious Turmeric-Ginger-Orange Raw Infuse Honey to tea, drinks, fruits salads, yogurt, smoothies, oatmeal, cereal, and toast. It's very delicious as a topping for desserts, such as vanilla ice cream or cheesecake.
Our Turmeric-Ginger-Orange Raw Infuse Honey is made with special care using raw, freshly- harvested Hawaiian wild jungle flower honey, and organic Hawaiian turmeric, ginger, orange  and/or orange peels. We infuse not by heat, but by time. The result is ambrosia. Many of our customers have told their friends: "This is a must-try product!"
Additional information
Honey is truly a remarkable substance, made even more extraordinary by the process with which it is made. This blend of sugar, trace enzymes, minerals, vitamins, and amino acids is quite unlike any other sweetener on the planet.
It takes about 60,000 bees, collectively traveling up to 55,000 miles and visiting more than 2 million flowers, to gather enough nectar to make one pound of honey.
"Delicious! I used as jam or as honey.  Taste great on yogurt or as a topping in desserts."
-Gaurangi
"So good!  I consumed the whole 8.5oz. jar in a week, really really delicious!"
-Sasha
"Thanks Sita for your excellent products!"
-K. Tapie