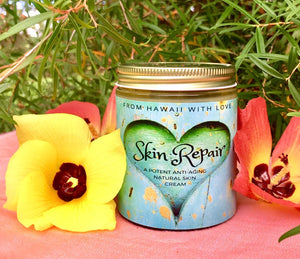 Sita's Skin Repair was designed by one suffering with chronic eczema.  Locally made with all natural ingredients.  Deeply nourishes, heals, balances and protects damaged, dry, cracked, sensitive skin.  Daily massage gently into your skin.
All Organic Oils:  Coconut, Black Seed, Local Hawaiian Beeswax, Calendula, Jojoba, Arnica, Apricot, Neem, Vitamin E, Frankincense, Rose Absolute, Lavender, Sandalwood & Myrrh.
Glass Jar
  "I'm very fond of Sita's new skin repair cream and my feet and hands are now soft again."
-Linda, IA
  "My niece and sister love your skin repair cream. Both have areas of eczema and your cream has done wonders for them.  Mahalo"
RG, Eugene, OR
  "I am in love with ALL the products, especially the turmeric paste and the skin creme. Thank you, Sita for your amazing dedication to producing such healthy gifts. I will be reordering for life!"
-Constance, NJ
Learn more 
about the Medicinal Benefits of Sita's Skin Repair Ingredients: 
Coconut Oil 
Anti-bacterial, anti-fungal and moisturizing, helps to improve skin elasticity and collagen production, anti-aging properties, helps restore the skin's natural PH levels, helps soothe and relax tight muscles in the body.
Black Seed Oil 
Naturally fights acne, clogged pores, and inflammation, fills fine lines and wrinkles, helps the skin retain moisture, maintain elasticity, and fight the damaging free radicals that age skin faster, contains over 100 vitamins and minerals, fades dark spots and discoloration.
Local Hawaiian Beeswax
Anti-inflammatory properties heals wounds and protects skin, helps form a barrier between the skin and the environment without clogging pores, high in vitamin A supports cell reconstruction and health, holds in moisture and reduces dryness of skin, is a humectant which means that it attracts water which helps keep the skin hydrated and soft, antibacterial properties helps keep skin clean and reduces risk of contamination, can inhibit the growth of bacteria and fungus, helps with diaper rash, softens skin and helps keep it moisturized without clogging pores, may reduce acne outbreaks, treats itchiness of eczema and prevents further drying out, heals stretch marks. 
Calendula Oil
Wound healing, heals acne, may relieve pain from dermatitis, soothes diaper rash, treats psoriasis, promotes skin hydration and firmness.
Jojoba
Deeply-hydrating, long-lasting moisturizing, nutritious for skin, anti–aging, fades lines and wrinkles, non-acnegenic, not greasy, soothes sunburn, gentle & non-allergenic, soothes dry skin, anti–microbial, acne and wound healing, gently heals sensitive skin, helps tame chaffing and chapping, reduces redness caused by drying, eases effects of eczema, psoriasis and rosacea, helps repair damaged skin.
Arnica

Heals bruises more quickly, soothes inflammation, eases muscle pain, alleviates stiffness caused by arthritis or other joint injuries, can help fight dandruff and support a healthy scalp, treats acne or insect bites, may reduce swelling and pain after surgery, treats acne, chapped lips, insect bites, painful swollen veins near skin surface.
Apricot Oil
Protects, prevents and rejuvenates all skin types, high content of vitamin E which is an antioxidant naturally found in your skin's own sebum, anti-aging, prevents black heads, helps reboot skin's metabolism, rejuvenates and brightens dry, mature, dull skin, reseals skin barrier, helps hold skin hydration, intensely nourishing and soothing.
Neem
Anti-fungal heals dandruff, treats dry skin, penetrates deeply into skin healing cracks and severe dryness making sure moisture stays locked in, prevents wrinkles, stimulates collagen production and improves elasticity, anti-bacterial properties treat acne, helps heal wounds and scars and fade dark spots from acne, anti-inflammatory and antiseptic-fights off foot fungus, heals skin.
Vitamin E
Assists in cellular restoration from sun damage and healing support for scars and burns, antioxidant which prevents oxidative damage to cells by helping to remove free radicals, protects skin from sun exposure and air pollution, moisturizing, heals and hydrates skin, strengthens skin barrier function, anti-inflammatory, relieves eczema. 
Frankincense
Heals and strengthens skin, prevents signs of aging, improves skin tone, elasticity, defense mechanisms against bacteria or blemishes, may help tone and lift skin, reduces appearance of scars and acne, heals wounds, stretch marks, surgery scars or marks associated with pregnancy, heals dry and cracked skin, reduces redness and skin irritation, produces even skin tone, soothes irritated skin, helps decrease inflammation and pain in conditions that affect muscles, joints and tendons like arthritis.
Rose Absolute
Stress and anxiety relief, frequently used as an emollient and cell regenerative for mature skin, dry skin, scars, wrinkles, cuts and wounds, used for varicose veins, anti-inflammatory, antimicrobial, calming, uplifting, apply topically to reduce menstrual cramps, reduces menopausal symptoms when used in massage. 
Lavender
Reduces redness, blotchy patches, and acne scarring, anti-inflammatory, soothes and heals irritated skin and treats pain from inflammation from burns, sunburns and itching, helps heals skin tissue, cuts, scrapes and wounds, reduces scars, relieves insect bites, kills bacteria preventing acne breakouts, unclogs pores, helps relieve dry, itchy, scaly skin due to eczema, treats psoriasis, reduces discoloration including dark spots, lessens blotchiness and redness, antioxidants protects from free radicals reducing wrinkles.
Sandalwood
Promotes healthy clear skin, antiseptic properties prevents acne and rashes, heals itching and inflammation, cools and soothes sunburns, gently exfoliates, helps fade scars, moisturizes and tones the skin with mild astringent action, naturally mild and is suitable for all skin types, tones, clarifies and hydrates skin extremely well. When combined with other essential oils, it creates extremely nourishing and vitalizing blends.
Myrrh
Treats skin wounds and infections, myrrh oil mixed with sandalwood oil was especially effective at killing microbes that infect skin wounds, inhibits growth of five fungi that cause skin conditions, including ringworm and athlete's foot, relieves headache and sore body pain.