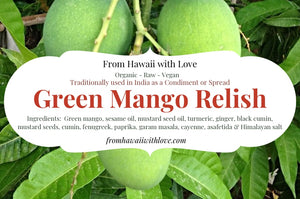 Green Mango Pickle  (Relish) Medium Hot.
Ingredients:  Green Mango, Sesame Oil, Mustard Seed Oil, Turmeric, Ginger, Black Cumin, Mustard Seeds, Cumin, Fenugreek, Paprika, Garam Masala, Cayenne, Asafetida & Himalayan Salt
We use an Ayurvedic recipe to make this mouth-watering raw fermented condiment. The flavor grows while it is cured in the sun.  
It is traditionally used in India as a condiment or spread.
It is taken to increase health.  It's micro-organisms stimulate digestion, it enhances the flavors of the foods, and it doesn't spoil.  
My mouth waters just thinking about Sita's Green Mango Relish (In India they call it "Pickle").  Adding one dollop makes a whole meal come alive!  I don't like really spicy foods but this is the perfect balance of flavor and spice.  I really love it!  Sita makes the best food blends and they are so unique and special.  This would make a great gift for my family!   -Premanandi