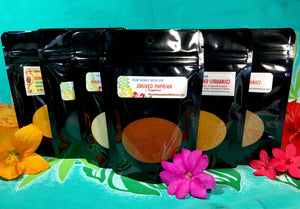 Hawaii Grown Spices  (Organic) 
9 Delicious Spices available in 2, 4, 8 and 16 oz.
Everything on this list is certified organic or strictly naturally grown here in Hawaii. Because our spices and blends are freshly made, they are very aromatic and powerful.
Black seed or Black cumin ( Nigella Sativa)
Turmeric -Powder
Ginger – Powder
Cinnamon -Powder
Cayenne.
Clove Powder.
Smoked Paprika (smoked with natural dead Ohia wood)
Garam Masala – (Dry roasted Cumin, Coriander, Cinnamon, Clove, Cardamom and Black Pepper)
Curry – (Coriander, Turmeric, Cumin, Fenugreek, Cayenne, Black Pepper, Mustard Seeds, Ginger, Cinnamon & Clove)
  "By far the best spices I've ever had. Mahalo for the love and freshness you have put in to them. The curry powder is my favorite."
-Sarah
  "I'm so grateful to have Sita's products in my life! I love everything she offers so very much. I use her black salt and rosewater spray every day and absolutely love her curry powder mix, too. The turmeric ginger orange honey is delicious. The quality of her products is top notch, you can't go wrong."
-Jennifer, CA