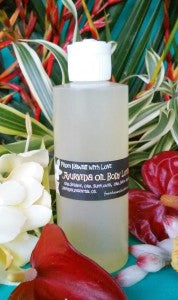 Ayurveda Massage & Body Lotion: (100% Pure Organic)
Ingredients: Fresh press food grade sesame oil, sunflower oil, neem oil. and lavender essential oil.
This will nourish your skin and soften, and remove fine wrinkles. 
  "Ayurveda Massage & Body Lotion (Organic) 5stars This is a wonderful product. I use the oil for Abhyanga every morning. The oil is easily absorbed by the body, is nourishing and therapeutic. Love, love, love this oil. Thank you Sita!"
-Colleen, AL
 "I wish I could give this product 10 stars! Sita must put some magic into this bottle or something because it's done wonders for my skin. The smell isn't great but I don't mind because of the results I'm getting. I just let the oil soak in and follow up with my favorite lotion and the funky neem smell is gone. AMAZING product!!!"
-Elizabeth